Robert van Heumen Composer Improvisor Laptop-Instrumentalist Sound-Designer
Software Developer
(music player)
April 5, 2020
CANCELLED due to COVID-19 // KP6-3.7 performance at Prix Annelie de Man @ Orgelpark
Time: 20:15
Location: Orgelpark, Amsterdam
More info

During the closing concert of the Prix Annelie de Man Festival, Van Heumen will perform KP6-3.7 for digitally enhanced Baroque organ, monophonic analog synth and live electronics.


"The music of KP6-3.7 is a process, a journey and a continuation of the ideas developed for the piece First Law of Kipple composed for the Sauer organ. Using existing material from different media, morphing it unrecognizable, I try to pay homage to my inspirations and at the same time create something entirely new. The new Baroque Organ inspired me to develop my ideas for a hyper-organ into new areas, combining sampled material, analog synthesizer and processed field-recordings with the traditional organ sound to create an instrument that unites the acoustic and the electronic into a whole."

---
March 28, 2020
Live streaming new work `blunt` at NL_CL #1: The Future of Music
Due to Covid-19, this event will NOT be performed in the flesh, but streamed live here: https://youtu.be/p9wqyna9bho

18:00-20:45 (GMT+1)
Donations can be made through iDeal.

Entrance: €5 – €10 (sliding scale)
Curator: Felipe Ignacio Noriega
Performances by: Shelly Knotts (UK), Kofi Oduro (Canada), Rafaele Andrade (nl_cl), Raphael Sousa Santos (nl_cl), Robert van Heumen (nl_cl)
More info

NL_CL (Netherlands Coding Live) is a self-organized assembly of live coding artists based in The Netherlands. NL_CL organizes monthly gatherings, discussions, concerts and other cultural activities to help bring together and give a platform to this community. In 2020 NL_CL is partnering with iii to present a concert and workshop series presenting three hypotheses on the performative practice of live coding each by a different guest curator from the NL_CL community. The goal of this series is to explore the variety and potentials in the current state of live coding practice. The series is organized by Jonathan Reus.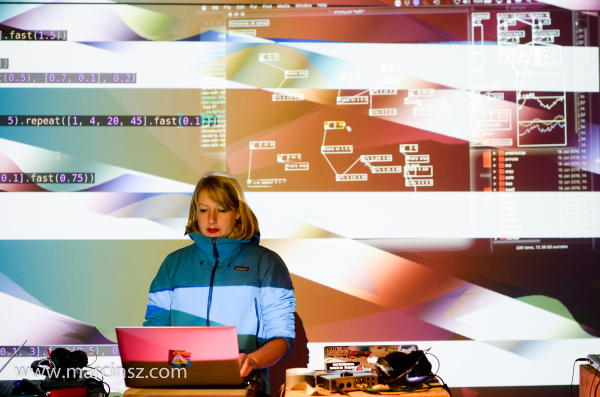 ---
January 25, 2020
Performance `Told To Succumb` at St. Antonius Düsseldorf
Time: 20:30
Location: St. Antonius, Luegallee 61, 40545 Düsseldorf
More info

Works by gamut inc (Marion Wörle und Maciej Sledziecki), Markus Goecke, Robert van Heumen, Christian Masur, Christoph Ritter, Laurenz Ulrich

Told to Succumb is the next step for Van Heumen in his quest for the perfect balance between composition and improvisation, between the acoustic and the electronic. Working with the organ as a huge synthesizer, combining its sound with sampled and synthesized sound, it is an attempt to create a hybrid organ, where all sounds are controlled from the computer keyboard. Creating a soundscape in real-time, using code to control notes and registers of the organ as well as noises from the computer, it is also a movement in a different direction for Van Heumen. Away from the hyper-control of the computer-instrument, into the uncertainties of live code. Hurray!


---
Number of events: ' 3 '